My employer was kind enough to put together a field trip to the Zappos Headquarters in Henderson, NV. Yes, I saw the infamous Tony Hsieh sitting at his cubicle with the un-famous, but apparently internal celeb named Fred. Our tattooed tour guide could not have been a more ideal example of Zappos culture.
Of all the interesting facts, eccentric traditions and outlandish stories, what struck me the most was an innovation located 1,600 miles away in Zappos's Louisville, KY fulfillment center. With millions and millions of pairs of shoes to keep track of, Zappos came up with a brilliant solution to optimizing the ability to location a single pair of kicks.
Initially, they stocked the shoes by brand, model, color and size. That approach quickly got out of hand as inventory waxed and wained. What started as the most logical way to organize inventory quickly got out of hand. It turns out the solution was the opposite of what one might expect to see in a warehouse of this size.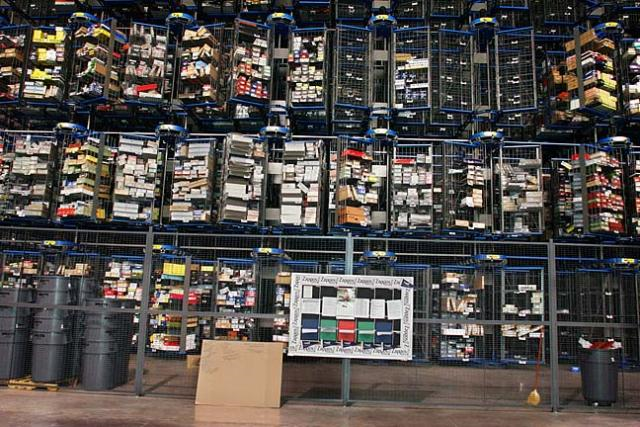 Upon entry into the warehouse, each box gets a unique license plate identifying the contents and where in the warehouse the box can be found. When an order comes in for a pair of shoes, a worker drives, walks and/or runs to the identified location and is able to quickly find the desired box. Because the shoes are randomly disbursed throughout the warehouse among other brands of shoes, the worker is able to more quickly identify a box of Pumas than if the box was stored adjacent to hundreds or thousands of other Puma boxes.
It's the simple, yet brilliant innovations such as these that I find most fascinating about large companies.